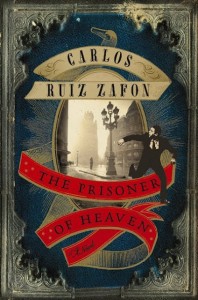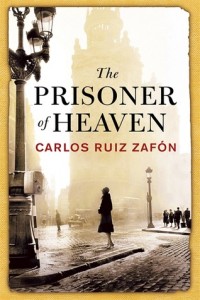 I completely forgot that I bought this book over the summer until I was looking through my kindle and found it. Oops. I seriously have NO memory whatsoever of actually purchasing the novel but I checked my orders and turns out I did. Weird.
Anyway, I read
The Shadow of the Wind
by Carlos Ruiz Zafon several years ago on my dad's recommendation. There aren't too many books that we share but this was one we both loved. I only read it once so I'm a little fuzzy on the details but I remember the book involving a young man named Daniel Sempere whose father owns a bookstore in Barcelona in the 1950s. Barcelona has only recently emerged from the Spanish Civil War and Franco's dictatorship. Those details form the background of the plot, which more than anything concerns Daniel's obsession with the author Julian Carax. Daniel's father takes him to a secret library called the Cemetery of Forgotten Books. Those who visit the library (a select few) are allowed to take a book home which they must protect their whole lives. Daniel takes home
The Shadow of the Wind
by Julian Carax. But when he can't find any other books by this author and learns that a man has been seeking out Carax's books for decades and burning them, he sets out to discover why. What he and his friend Fermin learn is a gothic love story about Julian and his doomed love for a wealthy woman named Penelope. Daniel grows up over the course of the novel and ends up married to a young woman named Bea with whom he has a son, named Julian.
A few years later, Zafon published
The Angel's Game
, a prequel of sorts. I remember not liking this novel as much. It was pretty convoluted but it was cool to see Isabella, who later is Daniel's mother, the Cemetery of Forgotten Books and Sempere and Sons Bookstore. This book followed a writer named David Martin who is approached by a mysterious publisher who offers a book deal that comes leads to further mysteries. There was some fascinating commentary about religion in this book but overall it didn't intrigue me as much.
So this brings me to
The Prisoner of Heaven
. Daniel is married to Bea and is the father of Julian. He still works at the book store with his father and his friend Fermin Romero de Torres. In
The Shadow of the Wind
, Fermin revealed his history at having been imprisoned by spying on the Anarchists during the way. As a former government intelligence agent, Fermin was able to help Daniel a lot in the original book but was chased by Inspector Fumero who had originally put him in prison.
The Prisoner of Heaven
is really Fermin's book. It's mostly about how - near his wedding day - he is panicking over having no legal identity. He tells Daniel his story over most of the book. Interestingly, he is a prisoner in this castle along with David Martin, the author from the second book. I'm sure there were other characters who were featured in the other books but I just can't remember. This book seemed a bit like filler since the epilogue, set in 1960, hints at a further adventure for Daniel Sempere. Fermin's story was a means of getting Daniel involved with a character who appeared to have something to do with his mother, Isabella's death. The book also reveals tensions between Daniel and Bea.
Frankly I wish I remembered more about Fermin from the original book. He appears to be a popular character from other reviews that I read but I just don't recall much (if anything) about him. It's been way too long (eight or so years I bet) since I read the first book. What I liked about
The Prisoner of Heaven
was that (despite filling like a filler novel) the descriptions were lovely and the story was much more straightforward than the maddeningly confusing
Angel's Game
whose narrator (David Martin) was possibly crazy and therefore unreliable. This novel was much less confusing and open to interpretation. I was also surprised by how short it was (under 300 pages) compared to the previous novels. So apparently by what I've just looked up online, there will be a fourth and final book in this series. I'm sure I'll read it. The translation of the book into English is really well done but sometimes the language feels grandiose or stilted. It's hard to explain what I mean. In the end, Zafon's three novels in this series are about books - how important they are to society. How beloved they become to readers. How comforting or frightening they can be. And really, that's what I had to take from this novel, despite the few issues I had with it. I'm hoping the fourth book will tie everything together rather than just the loose narrative links that exist between each novel now.
Sorry this review is a little disjointed. I wanted to get it down before I forgot but I'm also not quite pulling everything together well enough. How very Zafonian of me...
Carlos Ruiz Zafon's Website
Buy it at
amazon
and
Barnes & Noble