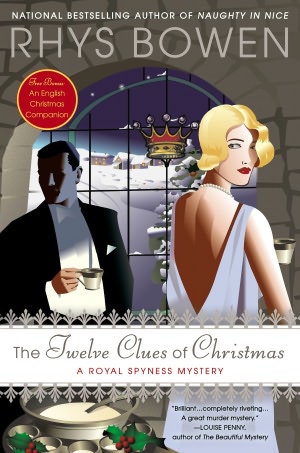 (isn't this cover gorgeous?)
I've written about Rhys Bowen's Royal Spyness series before (my internet is being super slow so I can't go back and link to any previous reviews, although I'm pretty sure the last one came out last fall). Bowen currently has two series featuring heroines from different time period who solve mysteries. The Royal Spyness series features Lady Georgiana Rannoch, great-granddaughter of Queen Victoria and thirty-fifth in line for the British throne. She lives in the 1930s (so pre-Wallis Simpson and the crown prince's abdication), during the Great Depression and Hitler's rise to power. She is the daughter of a late Scottish duke. Her brother now holds the title but his miserable wife, Fig, is not very welcoming to Georgie.
The Twelve Clues of Christmas is the sixth book in the series and it advances the overall plot of the novels well. Georgie still has no money. She still stumbles onto crime scenes easily, but she's more together than she was in the first book. Having already had her season and no suitors, at the start of the series, Georgie flees to her family's home in London where she scrapes by with very little. She always manages to land on her feet though, avoiding marriage to various European princes and jobs as a lady in waiting to an elderly great-aunt. She also often meets famous characters from her era, like Coco Chanel, Wallis Simpson and of course the king and queen of England.
At the start of this novel, Georgie is stuck in Scotland for Christmas with her insufferable sister-in-law (her brother is kind but can't protect her from his wife) whose family is about to descend with their ideas about austerity. When you live in a drafty Scottish castle, skimping on food and heat doesn't really make for a fun holiday. Georgie phones her mother, Claire Daniels, the famous actress and even more famous bolter but learns that she is heading to a tiny town in Devonshire called
Tiddleton-under-Lovey with Noel Coward to work on a play and enjoy an old fashioned English Christmas. Georgie recommends that they hire Mrs. Huggins, her grandfather's neighbor, as a simple English cook and have her granddad, a former London cop join them as well.
Georgie wishes for an invitation but as luck would have it, she sees an advertisement in the paper looking for a young woman to host a large Christmas houseparty in a small English town. The town is, of course, Tiddleton-under-Lovey. So Georgie and her awful maid, Queenie, head to Devonshire for the holiday. She learns that her hostessing job is at the manor house of the local nobility, who have also fallen on hard times and charged guests from places like America to enjoy a classic, old fashioned English Christmas, complete with all the trimmings. George is happy to help, and enjoy a warm house and delicious meals for the twelve days of her job. Having her mother and grandfather nearby is also a treat. And of course her love, Darcy, shows up conveniently (when I first read about this book, I found it ridiculous that everyone would end up together in one tiny town but it makes sense in the novel).
The first body has already turned up when Georgie arrives in the town and it's not long before other people start dropping like flies. Of course she uses her developing detecting skills to figure out what's going on in the tiny town, while hostessing the house party, where readers get to enjoy details about the food, games and events that go along with an old fashioned English Christmas. As usual, this book was a breeze - fun and adorable. Georgie has a good head on her shoulders and is a survivor despite her circumstances. The novel advances the plot of her romance with Darcy and sets her up for a potential job and home in the next book. It was also nice to see her relationship with her mother developing.
Rhys Bowen does a great job at creating a fun mystery, interesting characters and at depicting the time period of the 1930s. This series is my favorite of the two out now (the other one focuses on Molly, an Irish immigrant living in NYC around the turn of the century, from what I remember) and I always look forward to the next one. While I had my suspicions as to who was behind the murders pretty early on, I wasn't 100% sure due to the red herrings Bowen threw in, which is all part of the fun.
Anyway, I loved it and can't wait for book 7!