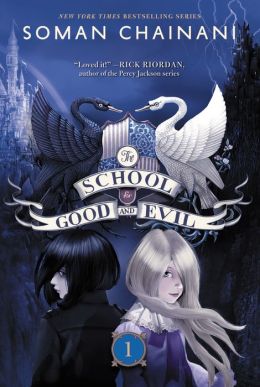 Entertainment Weekly
just wrote a review of
The School of Good and Evil
(linked below) and raved about the book even for adults. It's the first of a trilogy, with books two and three coming out in 2014 and 2015 (all summer releases). Universal also just picked up the rights to develop movies out of the plot (see article below).
Anyway, this novel is seriously adorable in a
Harry Potter
meets
Once Upon a Time
kind of way. The story is a bit predictable, but it has a good message.
The School of Good and Evil
tells the story of Sophie and Agatha, two girls from a small village on the edge of the woods who are complete opposites. Sophie is the classic fairy tale princess, the daughter of a widower, beautiful, blonde, good singing voice, who spends all her time doing good deeds. Her best friend, Agatha, on the other hand, lives in a cemetery and resembles an evil witch: lank, greasy hair, bulging eyes, bad manners. She's like
Snape
as a girl.
Sophie initially befriended Agatha as a Good Deed, but the girls grew on one another so that they are friends when the novel opens. In the village, every four years a mysterious being called the School Master arrives and steals two children, one good, one evil, for a school hidden somewhere in the woods. These children never return. But periodically new story books are brought to the village and the illustrations in them sometimes resemble the missing children from the last two hundred years. No one knows where these stories come from or if the school is real but the adults freak out every four years and try to protect their children from the School Master.
Sophie, of course, is dying to go to the school to achieve her true destiny as a fairy tale princess. Agatha, on the other hand, doesn't believe in the school, but wants to protect her best friend. The girls' true colors are hinted at quite early on. Sophie is selfish and her Good Deeds are really quite ridiculous (like making face cream for orphans), whereas Agatha is truly good and will put herself in danger to save her friend. When the School Master shows up to take Sophie away, Agatha gets herself taken too and the two girls are off to The School of Good and Evil... where everything goes terribly wrong.
The girls are dropped off at the "wrong" castles: Agatha to Good with a myriad of vapid princesses and muscled princes while Sophie is stuck in a dank tower with horribly evil children. Of course all she wants to do is get to Good, while all Agatha wants is for the two of them to go home.
Neither girl will get what she wants and along the way, they both discover that it's not what is on the outside that counts; what's inside is more important. Agatha and Sophie take fascinating journeys in the book as they discover their inner good and evil sides. The story itself is a bit
Harry Potter
light. While
Harry Potter
never skimps on details (well most details. How many damn kids go to Hogwarts?! Who are Hermoine's other two mystery roommates?),
The School of Good and Evil
is a bit vague in terms of the actual school The teachers are barely fully formed presences (no McGonagall or Flitwick here) and the buildings themselves aren't very well described. However, the overall message is a good one. And the story is entertaining. The ending left a lot of places for the author to go. Will the next book follow Agatha and Sophie? Or two other children from their village? Or some of their classmates? It's a mystery, but one I will definitely check out next summer!
Book website
Book trailer
Entertainment Weekly Review
Article about the movie
Buy it at
amazon
and
Barnes & Noble