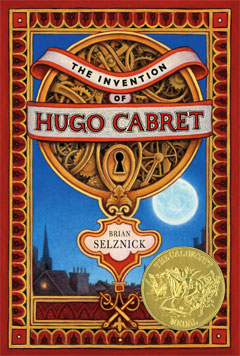 I watched the movie
Hugo
a few months ago and enjoyed it so much that I immediately went to find the book only to learn that it wasn't available on the kindle. I posted something about that on facebook and a lot of people told me that the book was so special because it is mostly illustrated so I had to get a hard copy. Luckily one of my students was able to lend it to me. It's a super quick read since it is mostly illustrations but the book is pretty thick so I waited until I was home last week on bed rest for a couple days at which point I tore through it super quickly.
The Invention of Hugo Cabret
is the story of a young boy who lives within the walls of a train station in Paris. His uncle, who has disappeared, was the keeper of the clocks in the station who was in charge of cleaning, winding and maintaining all of the timepieces. Hugo's father (another clock maker) died in a fire at a museum, leaving behind only one automaton that they had found in the attic of the museum. Hugo wants to repair the old automaton with the skills he learned from his father but he also has to spend every day caring for the clocks and avoiding the station master. He also needs to survive. While he tries not to steal, he does need to eat and has to take some food from the different vendors in the station to live.
Eventually, he is caught stealing a small wind up mouse from a man named Georges who runs a small toy shop in the station, which brings Hugo into the larger story. What is Georges' past? Why does his goddaughter, Isabella, wear a key around her neck that looks like it would wind up the automaton? What will the automaton write when it comes to life? How does the magic of the early film industry fit into any of this?
Do yourself a favor and read this magical book, even if you don't have a child to read it to. It's a lovely story, which actually includes pictures from early filmmakers like
Georges Melies
. And as I said earlier, it's a very quick read - perfect for a rainy day. I really loved it!
Book website
Buy it at
amazon
and
Barnes & Noble