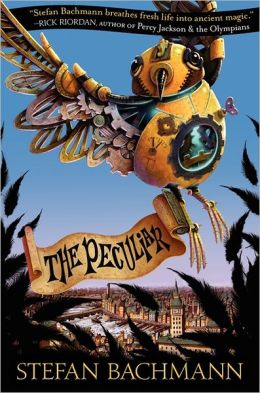 Geoff bought me
The Peculiar
for Christmas this year but I sort of forgot about it until I was looking for something to read, spotted the title on my kindle and read the book description, which immediately grabbed me. The novel more than met my expectations based on the synopsis. I was already sucked into the novel when Geoff told me that a teenager wrote it. I'm glad I didn't know that beforehand or I might have not read it after
Eragon
, which was one of the worst, most derivative books that I've ever read. Fortunately, Stefan Bachmann is actually talented. The novel is a bit steampunk, a genre that I can like when it's well done. I find though that all too often steampunk novels create a world where way too much is left unexplained. I wrote about this when I reviewed
Railsea
a few months ago. I felt the same way about
The Court of the Air
, which I thought I would love. But then again, my friend
Natania
often writes steampunk and I find her writing very clear and fun.
The Peculiar
was just as well written and interesting.
Bachmann sets the world up well.
The Peculiar
takes place in an alternate Victorian England, where years before a door from the fairy world opened up in Bath, leading to years of fighting between humans and fairies. By the time the story takes place, fairies have become a part of life. The streets are lit by little fairies in glass lanterns, while goblins run rickshaws around the streets. Airships and elevated trains are common sights in London and there are Sidhe (high fairies) as members of parliament. In the slums of Bath, young Bartholomew Kettle and his sister Hettie live with their mother. The children are changelings, or peculiars, but rather than the traditional definition of a changeling, Bartholomew and Hettie are the product of a fairy father and a human mother. Peculiar children are greatly despised by both groups and so the children are forced to spend their time indoors so as not to be noticed and killed like many of their kind.
However, changeling children are being murdered. When the book opens, nine had been killed for mysterious purposes. When Hettie is kidnapped by a beautiful woman in a plum colored dress, Bartholomew sets out on a desperate mission to find her.
Meanwhile in London, Arthur Jelliby is an unmotivated but still somewhat important member of Parliament's privy council who gets involved with the missing children through working with Lord Lickerish, a Sidhe member of the government. Arthur is the kind of man who likes to sleep late and not be bothered with much of anything serious. However, he gets swept into discovering what Lickerish is up to, which throws him in the path of Bartholomew. Unlike most, he treats the boy as a person, not a despised changeling and slowly earns his trust as they try to find Hettie and investigate the murders of children. Clearly the two are connected and everything comes to a head in a great airship in London.
Stefan Bachmann may have begun this book when he was only 16 but it's a seriously impressive and enjoyable novel. Bachmann does a great job of world building without alienating readers. The idea of fairies (spelled faeries throughout the book) inhabiting and interacting in our world isn't a new one but he does a great job with establishing a creepy atmosphere and winning characters to create a unique novel. I was reminded a bit of Neil Gaiman, which was interesting because a review on amazon compares this book to
The Graveyard Book
in tone.
The book ends on a cliffhanger, but fortunately Bachmann is hard at work (while attending Zurich Conservatory in Switzerland) on the sequel, currently titled
The Whatnot
, which will be released in the fall. As a composer, Bachmann also wrote music to go along with the book called
Peculiar Pieces.
Part of the novel's score can be heard on his website (see below for the link). He's fascinating, self-deprecating and clearly an inventive writer and hard worker. I can't write enough about how much I liked
The Peculiar
and how excited I am for the sequel!
NY Times Review
Another good review
Author's
website
and
blog
By it at
amazon
and
Barnes and Noble