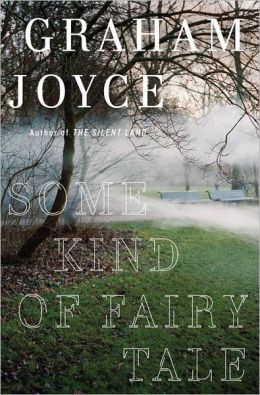 My husband just asked me where I found this book. I can't remember, but I had previously sent the sample to my kindle and when I was looking for something to read, the title jumped out at me.
Some King of Fairy Tale
is the story of Tara Martin, who disappeared from her little English town twenty years ago. Since then, her family has moved on. Her parents still live in the house where she grew up, her brother is now a farrier with a wife and four children and her ex-boyfriend, Richie (who is now estranged from the family and was a suspect in her disappearance), is still playing music and doing drugs.
But then, on Christmas Day, twenty years after she disappeared, a young woman, barely looking older than 16 (the age Tara was when she disappeared) shows up at the Martin's house and claims to be Tara. She looks like Tara did at 16 but has barely aged. Her reappearance throws the family into absolute chaos. Her brother, Peter, in particular is enraged by the story she tells, although her return does make him finally reach out to Richie, his childhood best friend.
Tara claims that after a fight with Richie, she was alone in the Outwoods when a man approached her on a white horse. They spoke together for a bit and then he invited her to accompany him to his home. At 16, Tara was discontent with her life and reeling from the end of her relationship with Richie, so she decided to go with the man. They rode through a strange landscape that she ceased to recognize as her familiar home and ended up in a house where other, loosely moral people lived. She soon realized that there was no phone, no technology and no way to leave. The man explained to her that she could not cross back into her home for six more months when the stars and planets aligned correctly. Tara would not call these people fairies, but it's clear that they are some version of magical folk who crossed a boundary into her land and took her home with them.
No one really buys Tara's story, which unfolds over the course of the book, even after she agrees to therapy with an older, eccentric man named Vivian Underwood. There are multiple perspectives in the novel, which also moves between past and present and includes the musings of her therapist, who attempts to diagnose her as some sort of amnesiac who is blocking out the time after some sort of traumatic even occurred. While as a reader, you experience Tara's story as told to other people, she rarely has her own POV chapters. You never really know what she is actually thinking, only how people react to her story and to her.
The ending of the book is ambiguous. Tara makes a decision about how she will live the rest of her life but the audience is never fully clear as to what happened. Was her story true? Was she suffering some sort of delusion? Her return definitely altered the future of people around her but there was no definite resolution to the question of where she had been, which I thought worked well. The novel emphasized the importance of family and friendships and the characters around Tara certainly evolved for the better. I thought it was an interesting, enjoyable read, and I will definitely check out some of the author's other books!
Salon Review
Washington Post Review
Blog Review
Buy it at
amazon
and
Barnes & Noble